Inspiring a better tomorrow
2.7
Million square
meters of reclaimed land
1,500
Existing
Hotel Keys
11
Million Square Meters
of Planned Development
1,900
Existing
Residential Units
Flagship Project Al Marjan Island
Al Marjan Island is a man-made island located in Ras Al Khaimah, where sun, sand and sea exist naturally all year round.
Here, you'll get to live different types of unique experiences. The exquisite mix of fascinating nature, well preserved history of the emirate and luxurious facilities of the island that attracts residents and visitors from all over the world and made Ras Al Khaimah one of the UAE's top emirates that leads different types of tourism.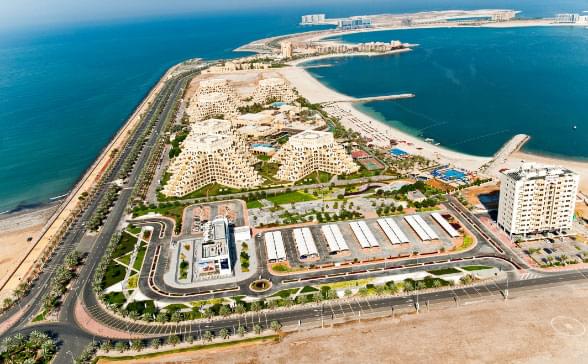 Mixed Use Projects

It is a market driven master planned residential community that targets working class from within Ras Al Khaimah as well as other Emirates. The development will embrace RAK's culture and provide community retail components, plenty of landscaped areas and community amenities
It will be developed on a 11.5 million square meter plot of land adjacent to Emirates Road (E-311). The subject land is approximately 20 km away from the gateway to RAK and will comprise substantial mixed-use commercial, residential, recreational, and leisure facilities.

Commercial Development

289,000 square meters mixed-use development, located strategically along E-11, about 20 km west of the RAK city center and 35 km from the RAK airport. The project site is directly opposite the Al Hamra Village and near Al Marjan Island.
The project aims to create a vibrant, medium density and market friendly environment that attracts working class and SMEs. The office component will create the vibrant hub of the development, and will be surrounded by residential buildings

Residential projects

A mixed-use development which extends over 430,000 square meters in Ras Al Khaimah.
The project is predominantly a low-rise residential development including apartments and villas. The development will also include a strip of low-rise retail and F&B outlets.

Waterfront Development

The upcoming development will comprise waterfront hotels and resorts, retail, residential and community amenities.